President & Board Chair
Sister Gaia Love
Sister Gaia Love has been a Sister since 2011 and is currently the Treasurer and Board of Directors Vice-Chair of The Sisters of Perpetual Indulgence, Inc. Their passion is in non-profit administration and advocacy focusing on LGBTQ issues and urban planning. Sister Gaia has been involved and served in leadership positions with national award winning non-profit organizations to include Bike San Diego, the Balboa Park Heritage Association, The San Diego Sisters of Perpetual Indulgence, The Los Angeles Sisters of Perpetual Indulgence, and the Special Olympics.

Treasurer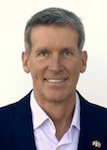 Steve Clark Hall
Steve Clark Hall is a native of San Francisco and has been owner of his 1885 home on 19th Street since 1984. He is a California state licensed general contractor who specializes in historic preservation. He has extensive experience in non-profit public benefit corporation management and served as the first President of the Eureka Valley Foundation when formed in 2008.
Secretary
Jason Poindexter


---
Directors
Gerald Abbott


Gary McCoy
Gary is a former Policy & Community Affairs Manager for the SF Recreation & Park Dept. Gary was appointed by Governor Brown to serve on the newly formed California Homeless Coordinating and Financing Council, he also serves as Vice Chair & Policy Chair to the SF Shelter Monitoring Committee as a Mayoral appointee, as well as the CFO for a substance-abuse recovery-based non-profit. Gary is also a former board member of the Castro Country Club Advisory Board – a safe and sober coffee house and meeting space dedicated to the recovery of LGBT addicts and alcoholics. Previously, Gary served as a Legislative Assistant to 3 members of the SF Board of Supervisors with focuses on policy and legislation and neighborhood quality of life initiatives. Prior to working for the City, Gary actively advocated policies that serve the homelessness and unhoused populations. Gary, himself, was homeless and living on the streets of SF and in the Castro for over a decade.